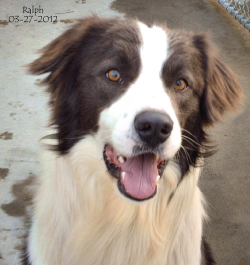 RALPH is an 18-mo old blue and white purebred Border Collie, born Sept. 16, 2010. His coloring is not unusual in Border Collies, but not often seen. He is neutered, has all shots, is HW negative and on HW and flea prevention. He is a gorgeous, wonderful young dog.

Ralph came to rescue after spending his life from puppyhood left mostly to his own devices in a large fenced yard with a few other dogs. After one month in foster care, Ralph overcame his timidity and has become a playful, happy dog! He has learned some of his basic commands, walks well on a leash, is learning about playing with dog toys, he is crate trained and rides well in a vehicle. He gets along GREAT with other dogs and is fine with cats. He has been around horses and chickens but needs to learn a bit more about not chasing chickens.

Ralph is extremely people-oriented. He is outgoing, affectionate and friendly with everyone he meets. He plays nicely with all other dogs but his main focus is on human companionship. He is eager to learn. He is very good in the house, although still needs supervision to make sure he knows not to chew on shoes.

Ralph's ideal forever home will have one or two other dogs and a dedicated, attentive owner. Ralph is medium drive so he would be ideal for someone who doesn't need a super-fast agility dog, or who enjoys rally obedience. He would also be well-suited for someone who is a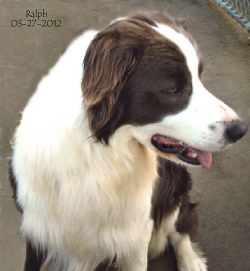 beginner in herding.

Adoption applicants who live in VIRGINIA will be given preference, but all applications will be considered. A new owner will be REQUIRED to demonstrate experience in dog training activities and plans to pursue obedience training, rally, agility or herding on a consistent, ongoing basis. Ralph's adoption fee is $250.00. He is located in the Warrenton, Virginia area. Contact Myra Soden at knollviewe@juno.com or call 540-854-7830.