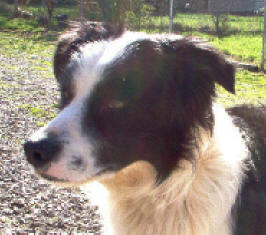 ---

JAKE is an 18-month old purebred Border Collie who was rescued by his
former owners from an animal shelter in rural South Carolina. He came
into rescue because he was jumping fences and his owners were worried
he'd get into trouble. But Jake had been raised nicely and was trying to
teach himself how to herd goats.

Jake needs a lot of basic obedience training but, overall, has good basic
traveling and household manners. He gets along with other dogs but needs
to work on being less pushy and more polite. He's a sweet boy, slightly
reserved, very curious, and a little bit stubborn. But he has excellent
potential to become a great dog for obedience, rally, agility and, of
course, herding. He demonstrated excellent natural instinct and ability
on sheep and seemed very willing to learn and take to training.

Happily, Jake fell in love with an adopter who had come to see another
rescue dog. So, with barely 24 hours in foster care, Jake went off to his
permanent new home, where he will get all the attention and training he
needs!