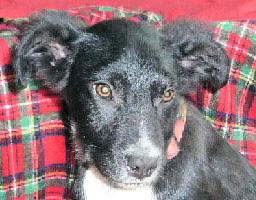 ---

ARDMORE is is 4-month old neutered male Border Collie mix puppy, who was rescued from the side of a country road in southern Tennessee. He and his
sister were starving, cold and in rough shape when they were found. Since
being in foster care, Ardmore has gotten his shots, and has been treated
for worms and skin problems, but he is healthy now and ready to go to a
permanent home. Ardmore has been doing great with his basic training and
housebreaking. He's crate-trained and is quite a little gentleman. He's
playful, very affectionate and curious and would be a wonderful family
dog.

Ardmore is in private foster care in southern TN....please contact his
foster mom, Jeanne, at jjcairns@bellsouth.net to inquire about adopting
him!

UPDATE -
Ardie is now a 6-mo old sturdy boy who has impeccable manners. He loves to swim in the pond and play with other dogs. He's 35 lb and will probably grow to 45 lb. He's just waiting for his permanent home.