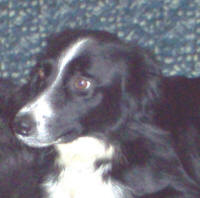 ---

"PANSY" is the sweetest little Border Collie, who was turned into a rural southern Kentucky shelter. Her previous owner didn't want her anymore because Pansy had gotten pregnant and had a litter of 6 puppies (like that was Pansy's fault!). After her puppies were adopted from the shelter, Pansy came to foster care with AMBCR.

Pansy is about 18 mo. old, she's been spayed, has all her shots and is heartworm negative. Pansy has a medium-rough coat, mostly black with traditional white markings. Her ears are pricked but she is a little camera-shy and doesn't really want to prick for her photo ops! She is a quiet little girl, very affectionate and gentle, and has lovely house manners. She is crate-trained, comes when she is called, walks well on a leash and rides nicely in the car. Pansy gets along great with other dogs and is also fine with cats. She's a sensitive dog, very eager to please and very food-motivated. She will be easy to train for whatever activities her adopter(s) wish(es) to do with her. Pansy weighs about 35 lb. with a petite, compact and athletic build just right for dog agility, which would be highly recommended as a fun and confidence-building lifestyle for her. Pansy would do fine with children but a moderately quiet household with a good routine would be best for her. Her herding potential is as yet unknown, but we will post an update on this soon.

Pansy is in a foster home in central Kentucky. Please contact Myra Soden at knollviewe@juno.com for an adoption application and to inquire about Pansy.